Weekly Roundup July 21 2017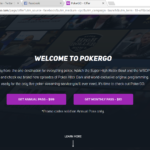 PokerGO Blacks Out WSOP Final Table in Many Countries
PokerGO is a startup poker streaming company. The company brought many summer poker events to the internet, including the World Series of Poker. This included the Main Event. That is until the final table. This is when PokerGO subscribers discovered that the ending to the sole reason many joined would not be broadcast.
While a press release from before the World Series of Poker started made it clear this would happen, PokerGO did not mention this in any of its recent advertisements. This includes social media ones that continued into the third day of the World Series of Poker final table. The ads, landing page and account creation pages all omitted this important aspect.
Viewers were asked to tune into ESPN and related stations to watch the final table. This was a major problem for the many people that are cord cutters, a common practice in 2017. PokerGO's mentions on Twitter were full of these complaints, including viewers demanding refunds. The solution for many was to join a streaming product like Sling for a free trial.
Calvin Ayre Pleads Guilty to Misdemeanor
Bodog founder Calvin Ayre pleaded guilty to a misdemeanor this week related to the US operations of Bodog. Ayre did not return to the US for the plea. He did it from his lawyer's office in Vancouver, BC.
Ayre will pay a $500,000 fine and spend a year on unsupervised probation. There were previous agreements made with other defendants from this 2012 federal action. The company and men involved agreed to not dispute the more than $60 million seized by agents.
WSOP.com Nevada Exhibits Major Support Issues
Safest Poker Sites covered multiple support failures within WSOP.com in Nevada this week. This included live chat not knowing basic deposit code information and the site attempting to use numerous excuses to try and refuse a legitimate cashout from a player that won $11 after raking $273. Read about it here.