Weekly Roundup October 2 2015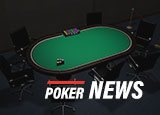 PokerStars Approved in New Jersey
PokerStars received approval on Wednesday to operate in New Jersey.  This process took more than two years.  Its license application was suspended due to legal issues surrounding PokerStars and its parent company when online gaming launched in New Jersey in 2013.  PokerStars was acquired by Amaya Gaming earlier this year and that appears to have resolved any issues that the New Jersey Division of Gaming Enforcement had with the company.
PokerStars is partnered with Resorts Casino.  The Full Tilt brand will also be used, but its future capacity is unknown.  No date has been yet for a PokerStars New Jersey launch.
Partypoker to Change Some Table Policies
Partypoker will roll out some new software features in the coming weeks under its "Poker for the People" campaign.  Players will no longer be allowed download hand histories.  This will help prevent abuse from those selling hand history and data mining. Hand Histories will still be available in an image display within the software.
Partypoker players will no longer be able to table select.  Players will join a wait list that covers all tables for a game and limit. When a seat is available, the player will be directed to it.  The usernames of the other players at the table will not be displayed until the first hand is dealt.
Merge Gaming Cashout Developments
Some players at Merge Gaming have reported checks processed in past months eventually bounced.  These checks were held in collections by banks.  There is some good news.  Players outside the U.S. are reporting Bitcoin transfers in just a few days.  Some U.S. players are getting offered Bitcoin.  Wires to players outside the U.S. are slowly trickling.
The biggest issue remains checks to U.S. players.  These are still taking 3-4 months to arrive.
PokerStars Bans Some Third Party Software
PokerStars moved to ban several third party softwares this week that gave players an advantage.  A software that provides play recommendation charts for heads up action was disallowed.  HUDs may now only display three colors and cannot give suggestions during play.  SpinWiz, which helped players table select Spin N Go tables, was also banned.