Click2Pay Poker Deposit
Note: The information below is for historical purposes only. Click2Pay closed in August 2014.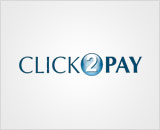 Click2Pay is an ewallet accepted by most online poker sites. It is available to online poker players in most countries. One exception is the United States. There is actually an exception to that. U.S. players that created an account before the UIGEA went into effect in 2006 are able to use Click2Pay to move money but cannot deposit or withdraw from the ewallet through any other method.
SPS Approved Safest Online Poker Sites
Rank
Poker Room
Payment Grade
Bonus
Play Poker
How to Fund a Click2Pay Account
There are several ways to fund a Click2Pay account. Visa and Mastercard are the most popular. There is a 3 percent fee for credit and debit card deposits. There are alternatives to paying this high fee. UKash deposits are free, as are wires to Click2Pay's German bank. Bank wires will carry a fee for the sender.
Click2Pay is a second tier ewallet. This is partly due to all of its fees. Click2Pay is not as widely accepted as Neteller or Moneybookers. One advantage Click2Pay has is that it accepts online gambling transactions from Canada. Neteller and Moneybookers do not. Click2Pay is a great choice for players in that country.
How to Withdraw from Click2Pay
There are only two ways to withdraw from Click2Pay in most countries. Click2Pay will supply a debit card that may be used at ATM machines and retailers. It costs €10 to receive the card and each withdrawal added to the card also carries a €10 fee. There is in addition to any charges imposed by the ATM owner.
Click2Pay will also mail a check. There is a fee of €20 for this service. Checks arrive in about one week.
Click2Pay for U.S. Players
There are some U.S. online poker players that still have a Click2Pay account available for these types of transactions. These accounts are restricted. Click2Pay may be used to move money from one site to another. There is no way to deposit or withdrawal online poker money for Americans. Those that have this type of grandfathered account must contact the poker site to get it included in their cashier as it does not show automatically since most U.S. players do not qualify.
The use of Click2Pay can be convenient for players that use multiple sites. This creates a scenario where players can claim reload bonuses much easier than those with it as there are no other ewallet options available for U.S. online poker players. Click2Pay is also available for online purchases in the U.S.
Alternatives to Click2Pay for U.S. Players
Since very few U.S. players have Click2Pay available, a different banking option must be found. Visa and Mastercard are popular deposit methods. Some get declined. If that happens an international prepaid debit card should work. Green Dot and Netspend are examples of prepaid debit cards that tend to work at U.S. offshore online poker sites.
Another option is cash transfer. Western Union and MoneyGram provide this type of service. It involves taking cash to a participating retailer or using a credit card on the company's website. There are fees involved with this type of transaction. The poker sites will usually cover any fees charged by Western Union and MoneyGram if $300 or more is deposited.
Poker sites usually pay withdrawal requests by check or cash transfer. Some offer a prepaid debit card and bank wire. The available withdrawal methods are available in the cashier, which uses geolocation to display the appropriate options.