Entropay Poker Sites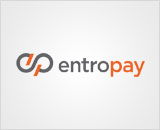 Entropay is a virtual prepaid debit card.  The main card is a virtual Visa.  Entropay will also supply a plastic Mastercard upon request.
Entropay is available as a deposit method at virtually all poker sites.  Players in most countries can use Entropay, including Canada.  One country that cannot use Entropay for online gaming transactions is the U.S.
The advantage of using Entropay over a personal credit card is to keep important banking details private.  The poker site does not receive any information about your banking when processing a payment from Entropay.  This may help cut down on identity theft.
SPS Approved Safest Online Poker Sites
Rank
Poker Room
Payment Grade
Bonus
Play Poker
How to Fund Entropay
Entropay accounts may be funded through Mastercard, Visa or a bank account.  There is a 4.95 percent fee to fund Entropay.  Poker sites do not charge any fee for depositing with it.  Entropay cards may also be funded through a person-to-person transfer.  The fee for this is less than a quarter per transaction.
How to Withdraw from Entropay
Entropay withdrawals are available through multiple methods.  A withdrawal may be requested to a bank issued credit or debit card.  It may also be paid through the Entropay plastic prepaid debit card.  Withdrawals to credit and debit cards have a fee of $6.  ATM fees may also apply.  A transfer may also be made to a bank account.  The fee is also $6 for this service.
Poker sites may have restrictions on Entropay withdrawals.  The most common one is that a player must have used it as a deposit method in the previous six months to use it as a cashout option.  Players that deposit by Entropay may be required to cashout using the same method.  There is a fee of 1.95% to receive a withdrawal from a poker site.
Entropay Currency Exchange Fees
Entropay charges a 2% currency exchange fee.  The solution to this is to have the poker room convert the funds before paying a withdrawal.
Entropay Alternatives
Players that do not like the fees or withdrawal methods for Entropay may want to consider other options.  These include depositing with a Visa or Mastercard directly to the poker site.  Most players outside Canada can sign up for Neteller and Moneybookers, the two most popular igaming payment processors in the world.
Americans cannot use Entropay and will need to find another method to fund an online poker account.  Popular U.S. online poker deposit options include Visa, Mastercard, Western Union and MoneyGram.  Most U.S. credit cards will get declined.  The solution is to purchase an international prepaid debit card.  These may be found online or at most grocery and drug stores.  Make sure the packaging states that it is good for international transactions.
Western Union and MoneyGram deposits can come with high fees.  Poker rooms will usually cover these fees when depositing $300 or more.  Make sure to contact the poker site before depositing to find out their policy and plan your deposit accordingly.
Most U.S. poker withdrawals are paid by check.  Other options include Western Union, MoneyGram, prepaid debit card, and bank wire.