Mac Poker Sites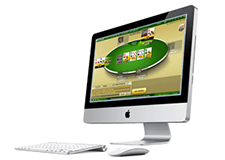 Victoria Poker was the first online poker room to offer a Mac client. It was full of bugs and failed to draw any players. The site eventually closed. Established poker sites started rolling out Mac platforms in the past five years as sales of Mac compatible devices increased. Mac computers now account for over 10% of all computer sales. Most online poker sites now offer a Mac platform. This includes several U.S. online poker sites and almost every other large online poker room.
Mac compatible sites will not work with most iPhone and related devices. That is because mobile devices generally run on a separate platform than computers. There are some hacks that allow mobile devices to run Mac compatible software but the program may not be stable. There may also be security issues when using these hacks so we do not recommend it.
SPS Approved Safest Online Poker Sites
Rank
Poker Room
Payment Grade
Bonus
Play Poker
U.S. Mac Poker Sites
The Merge Gaming Network offer Mac software for their players. We recommend Carbon Poker as a safe poker site on the Merge Network. BetOnline offers a Mac platform, and they have been improving their reputation this year. Juicy Stakes also offers a Mac option, but they aren't on our recommended list of safe poker rooms. SealsWithClubs is a Bitcoin site with a no download platform that runs on Macs. WSOP.com offers Mac in regulated U.S. markets. The only major site that accepts Americans without Mac compatibility is the Winning Poker Network.
International Mac Poker Sites
Windows Emulators
There are numerous Windows emulators for Macs. These are useful for the sites that still do not have a Mac option or for players that prefer the setup of playing on the Windows platform. Some Mac poker sites do not offer all of the same features as the Windows platform. Parallels is the most popular Windows emulator for Mac machines.
No Download Poker
Some sites do not offer a Mac option but may offer a no download platform. These generally operate through a Java or Flash window. No download poker rooms are often stripped down and do not offer features that Windows or Mac platforms have available. There may also be a limitation on the number of tables that may be played. The maximum number of tables a player may sit at could be as low as one. It is extremely important to have the latest version of Java or Flash. Older versions may have security exploits.
Linux Poker
Linux poker platforms are not available at any online poker room. Poker players that use Linux have a few options. WINE is an emulator type program that allows Linux users to operate programs in a Windows environment. There is a Mac style emulator called Darwin that will allow a player to operate a Mac platform on Linux. Darwin is still in beta. Linux users may also use no download poker platforms that operate in Flash and Java.