24hPoker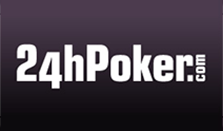 2002
2016
Merged with Unibet
Worsening online poker industry conditions
24hPoker was the main site on the B2B Network, later referred to as the IGT Poker Network. IGT acquired the platform with the intent of using it in the United States one day. That never happened.

24hPoker later merged its brand with Noiq Poker, a former iPoker skin. The latter brand was retired in 2012.
24hBet Poker Screenshots
History of 24hPoker
24hPoker launched as a standalone site in 2002. That platform became a network in 2004. It was known as the B2B Network. It was the first to deal games entirely in euros.
Unlike most networks, B2B failed to attract many major names. The most recognizable was Victor Chandler. Most were turnkey sites that used B2B's sports betting, casino and poker software.
The software was of low quality throughout its existence. B2B became IGT. The US company banned numerous grey markets. This caused traffic on the network to collapse and eventually led to its demise in December 2012.
IGT Poker Closes, 24hPoker Moves to Microgaming
24hPoker partnered with Noiq Poker. Players at Noiq Poker were moved to 24hPoker. Everyone was moved to the Microgaming Poker Network.
Microgaming is not a popular poker platform. There are dozens of other skins there. This made it difficult for 24hPoker to compete. They rebranded themselves near the end, and became 24hBet. The site tried to include casino games and sports betting to help increase revenue in a last effort.
The site closed in 2016. All players were moved to Unibet. Unlike many sites in this section, 24hPoker players were paid. Unibet honored all balances.
What 24hPoker Was Like
24hPoker started out as a standalone poker site. Its aim was Scandinavian players. All games were in euros. The software was atrocious when it launched and there was little improvement during its existence. By the time it closed in 2012, it was among the worst in the online poker industry.
Most games were No Limit Texas Hold'em. It had some fixed limit action, as well as a little Pot Limit Omaha and Omaha Hi/Lo. Several stud games were offered, including soko. These tables saw virtually no action.
The games at 24hPoker were extra tight, especially for its time. This was due to first deposit bonuses that equaled 30% rakeback on many skins. The network capped rakeback at 50% when including VIP programs.
When 24hPoker moved to Microgaming, there was nothing to differentiate it from other skins on the network. This was likely part of its demise.
Where Are 24hPoker's Components Today?
The B2B/IGT platform was retired in 2012. IGT never used it I other markets. That came at a cost of over $100 million to IGT. The Microgaming platform is still in operation. Players were moved to Unibet, which is still thriving as a poker platform.
Scandals Related to 24hPoker
24hPoker did not have any scandals during its history. All players got paid when accounts were moved to Unibet.
Player Impact
All players balances were honored by Unibet. There was an option for immediate withdrawal or use the chips at the cash games and tournaments at Unibet.
Related Failed Sites
24hPoker Timeline
24hPoker launches as independent site.

B2B Network created.

US players banned after UIGEA enacted.

IGT acquires B2B, renames network.

Numerous countries banned, traffic collapses. Network closes in December.

Noiq Poker players moved to 24hPoker as site moves to MPN.

24hPoker rebrands to 24hBet, offers casino and sports betting.

24hPoker closes, players moved to Unibet.
24hPoker FAQ
What network was 24hPoker on?
24hPoker started on B2B and moved to Microgaming.
What happened to Noiq Poker?
Noiq Poker merged into 24hPoker when B2B/IGT closed.
Where did 24hPoker players move?
Unibet acquired all 24hPoker players.
Did 24hPoker players get paid?
Yes. Unibet honored all 24hPoker player balances.
Which poker network was the first to offer all euro tables?
The B2B Network was the first to offer all euro tables.