May 2017 US Offshore Online Poker Payment Processing Report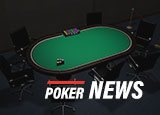 The past month remained consistent for U.S.-facing online poker rooms. There were no complaints about slow payouts at any of the major sites.
Last month's grades are in parenthesis. The April report may be found here.
Ignition Poker A+ (A+)
Ignition Poker is the largest U.S.-facing poker site. It is a member of the PaiWangLuo Network, once known as Bodog. The payouts at Ignition Poker have been consistent since U.S. poker players were moved there from Bovada earlier this year.
Bitcoin withdrawals at Ignition are processed in about one day. The maximum withdrawal is $9,500.  There is no fee for Bitcoin withdrawals.
The only other way for most players to withdraw from Ignition is by check. The maximum withdrawal amount is $2,500.  Checks arrive in one to two weeks. The fee is $50. Players may receive one free check withdrawal every 120 days.
Intertops A+ (A+)
Intertops is the flagship of the Horizon Poker Network. Juicy Stakes, mentioned later in this report, is the other major component of that network.
Bitcoin is the best way to receive withdrawals from Intertops. These transactions are processed in one or two days. The maximum withdrawal is $2,500. Checks and bank wires are also available from Intertops.  Checks arrive in one to two weeks and have a $3,000 cap. Bank wires arrive in two to three weeks and have a $2,500 cap. The fee for each is $50.
BetOnline A (A)
BetOnline is the flagship of the Chico Poker Network. Sportsbetting.ag is its sister site.
Bitcoin is the fastest way to get a cashout from BetOnline. These are processed in a day or two. There is a 2% fee on each transaction. The maximum amount is $5,000. Checks are processed in one to two weeks.  The maximum check withdrawal is $2,500. The fee ranges from $25 to $50, depending on the method of delivery.
BetOnline and Sportsbetting.ag offer one free cashout per month. It must be requested on a Friday. The maximum withdrawal fee waived is $50. Any cashout with a higher fee receives a $50 discount.
Winning Poker Network B+ (B)
The Winning Poker Network cashier services Americas Cardroom, Black Chip Poker and True Poker. The network made a slight improvement in its payouts over the past month.
Bitcoin withdrawals are down to two or three days. The fee is 2%. The maximum withdrawal is $25,000.
Checks are delivered in amounts up to $3,000. There are no reports of check deliveries as they have fallen out of favor. The fee is $65. Players should expect them in two to three weeks. Players may receive one free check per month.
The Winning Poker Network still offers a debit card. It is delivered to players willing to pay a $40 fee. Each withdrawal has a $4.95 fee. Every ATM or retail transaction has a $3 fee. There is a $5 fee every month to maintain the account.
Merge Gaming C+ (B)
The Merge Gaming cashier processes payments for Carbon Poker, PlayersOnly and Sportsbook.ag.  Merge Gaming was once the largest online poker network to accept U.S. players. It has seen an epic collapse, having lost about 90% of its business since 2011.
Many of the problems experienced by Merge Gaming are related to payouts. They are inconsistent and charge excessive fees.  For example, Bitcoin withdrawals have a 5% fee. The maximum withdrawal is $5,000.  Checks have a 3% fee and a $2,500 maximum. Bitcoin withdrawals take one to four days, the longest in the industry. Checks can take months to arrive.
Players can only receive one free cashout per year. This is the worst deal in U.S. online poker.
Merge Gaming continues to ban winning players. The network has also experienced network outages in the past month. While this does not directly relate to cashout speeds, sites that ban winners and can't keep the network online tend to be higher risk than those that avoid these issues. Equity Poker is an example of a network that banned winners and managed to go broke.
Juicy Stakes C+ (C+)
Juicy Stakes is a member of the Horizon Poker Network, alongside Intertops. We recommend Intertops over Juicy Stakes due to the better payment processing at Intertops.
U.S. players at Juicy Stakes only have one payout option. Players may request a check in amounts up to $1,000. The fee is $50. Active players that rake at least $40 in a month receive one for free.
SWC Poker (C)
SWC Poker only uses Bitcoin for deposits and withdrawals. This has been great for players in the Bitcoin bull market but also presents challenges. There is risk involved in trading Bitcoin and there are no alternatives to it at SWC Poker. The site pays Bitcoin withdrawals in less than hours. There are no fees.